Tourism Impacts by Provincial Riding (2021 vs. 2019)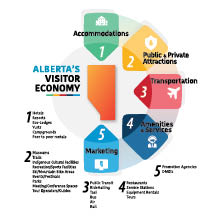 BACKGROUND
In Alberta, the visitor economy is literally "everyone's business". Growing faster than the general economy prior to the pandemic, the visitor economy is one of Alberta's most significant economic engines and the backbone of many local and regional economies. As a prominent service export industry, the visitor economy brings new spending into the province and generates significant local employment, drives economic growth and diversification, generates important tax revenues, stimulates investment in community infrastructure and services, elevates the quality of life for local residents, and, deepens the appreciation and celebration of Alberta's unique cultures and the natural environment.
HOW TO USE THE PROVINCIAL RIDING INFORMATION DOCUMENTS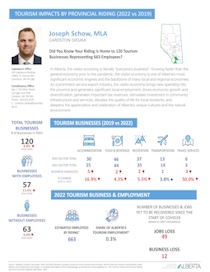 TIAA has prepared supporting documents in each of Alberta's 87 provincial ridings to help enrich tourism industry discussions with Alberta's federally elected officials. In many instances, federal politicians lack for an understanding of the contributions tourism and hospitality make to the provincial economy, and in support of the many Alberta constituents that work within the industry. The goal is that individual tourism operators, DMOs and other sector associations will draw upon these insights to help inform a common understanding about the power of Alberta's visitor economy. Each document contains valuable information about the number of employees and businesses within each riding.      
INDIVIDUAL RIDING DOCUMENTS